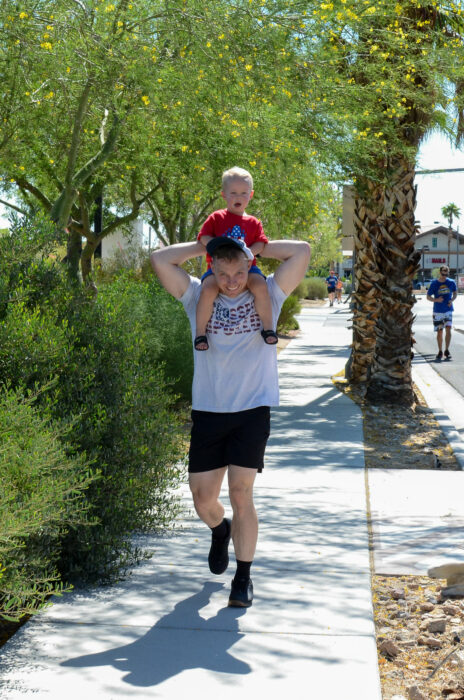 "Clean Air"
Every 3 Minutes for 7 Rounds:
200 Meter Run
1 Clean + Hang Clean

Tomorrow Forecast:
Row – Run – Jump Rope

Box Brief:
Congrats to Cari for being the September Member of the Month at Apollo! Scroll down to learn more about Cari.
What was your first experience with CrossFit? And what makes you come back for more?
I had been doing some boot camp type classes and running for several years when a friend approached me about trying CrossFit. I was reluctant to try, I was worried that I would hurt myself or die!! I ended up trying it out and really enjoyed it! When I was new to CrossFit, I loved seeing the progress that I was making. I couldn't do a strict pullup, and I just kept working on it and I got stronger and stronger….until I could do a strict pullup!!! It is really rewarding to set a goal for myself, work hard on reaching that goal, and reaching it!!!
As an experienced CrossFit athlete, what advice would you give someone who is just starting CrossFit?
Crossfit is a very intimidating thing to start, so first of all, great job for coming in and starting! Second, I would say, keep coming in. It will be hard and you will be sore, but it will get better the more that you come.
What is something the lovely folks at Apollo don't know about you?
Travis and I both grew up in a small town in South Dakota. We have known each other since 7th grade. We have three children, Phoebe is 14 years old, John is 10 years old and Eleanor is 7 years old. Travis and I both went to college at University of Minnesota. I grew up an avid Minnesota Twins fan. While we were in college I got a job answering the phones for the Twins. It was way more exciting than it should have been!! But I got free tickets to the games!!
I imagine your family has traveled more than most due to the military. What is your favorite place you have visited in the world?
Haha! My husband, Travis, is in the Air Force, and we do our best to travel around the areas that we live. I laugh at the 'world' part. Travis has only been stationed here in the USA!! We have lived in Ohio, Georgia, Texas, New Mexico, Florida and now here in Las Vegas. We have been lucky to see so much of the United States, but I don't have a specific favorite place that we have visited. I would say that of all the places we have lived, Las Vegas is our favorite!
Everyone has their favorite and least favorite CrossFit movements. If you had to make your perfect workout, what would it be?
Oh dear, you may have heard me say this before, but I don't seem to have any favorite movements. They are all difficult! I just keep thinking if I just keep showing up and putting in the work, at some point maybe it won't be so hard. I do think a longer chipper is 'fun.'
If you could sit down with anyone in the world, past or present, who would it be?
I don't have a glamorous answer for this, just an honest one. My Dad! My Dad went to Heaven on 11-11-11. I would love to sit down and catch up!!!
What inanimate object do you wish you could eliminate from existence?
I have definitely never put any thought into this prior to reading this silly question! There are probably some really life changing answers that could be given here, but if I had to pick something that has recently irritated me, it would be the silly plastic party favors. My kids seem to always be bringing home goody bags full of crap I just throw away.