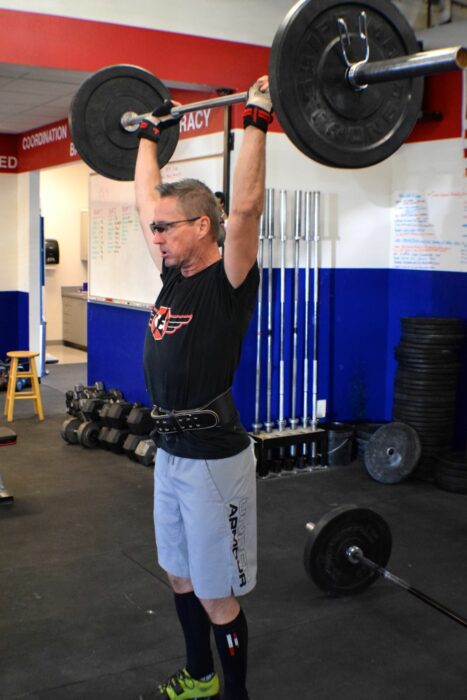 "Nancy"
5 Rounds:
400 Meter Run
15 Overhead Squats (95/65)

Box Brief:
Monte has been with Apollo since our opening in October 2011. He was our very first member of the month when we started this tradition in 2016. It is fitting that he be our Member of the Decade. Congratulations Monte!!
In honor of this momentous occasion, we would like to post his original interview. Enjoy!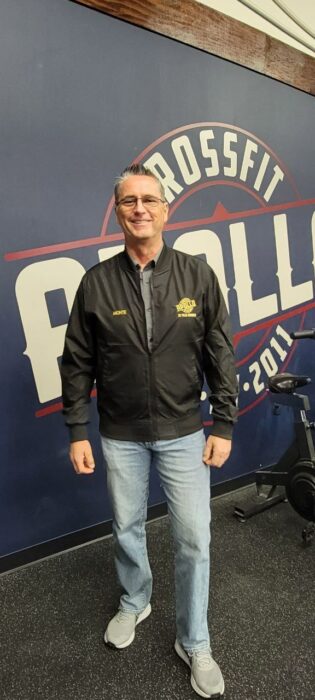 Why did you start working out at Apollo and how long have you been coming here?
I had a real scare in November of 2009. I had some discomfort in my chest that turned out to be a serious case of heart disease. Although it was caught before I had a heart attack, I did have to undergo quintuple bypass heart surgery. It because clear to me that I needed to take steps to control my risk factors so I wouldn't have to go through that again.
Aside from the obvious health concerns, the FAA grounded me and required a rigorous process for me to get back flying again.
My first attempt at fitness was going to a regular gym where I would walk o n the treadmill or play around with various equipment and contraptions. Without any set plan, that experience was boring, and I failed to see any real results. One day in October of 2011 my 17-year-old daughter told me about a new gym that was opening up. I took her there to check it out and that's when I met Chad. My intention was to sign my daughter up since she was working on a collegiate scholarship for soccer. I told her that CrossFit wasn't for me because I wasn't young of super athletic. Being persistent, she insisted that she would only do it if I signed up as well. Although I was intimidated, I decided to give it a try. I found CrossFit exciting and challenging.
The camaraderie among the athletes and coaches at Apollo was something I wasn't expecting and I really felt at home. I was able to get the support I needed to really push myself and achieve the fitness goals that I hadn't been able to do on my own.

Most of us know that you fly private jets and you're just like Fonzie. You're pretty cool. We get it! But how did you decide that flying was what you wanted to do?
I went to high school here in Las Vegas. During that time, I worked at a couple tire stores that my family owned. I earned a private pilot license shortly out of high school and continued to fly just for fun. I always assumed I would just grow up in the family business until it dawned on me that I hated working on cars and I hated retail sales! Bad combination if you plan on owing a tire store someday. One of my best friends was working as a co-pilot on a Learjet and I envied him every time he was flying to some cool destination, and I was stuck working on someone else's clunker. I would often talk about how much I'd rather be a pilot until one day my friend called me out on it. It was the wake up call I needed. I made the decision to leave the family business to pursue something I really enjoyed. It was one of the best decisions of my life.

If you could make up the workout "Monte", what would it be?
I am tempted to pick something easy that I am really good at but nothing comes to mind :/ ….. I do seem to have a love/hate relationship with Olympic lifting. Even though it always kicks my butt, I enjoy working on the technical aspects and usually can't wait to do it again. SO, "Monte" would probably be a snatch ladder with 200m runs thrown in the mix to keep my cardiologist happy.

If you could go on "America's Got Talent", what would you showcase?
I would probably showcase something I call "dancing" although my wife would categorize it as comedy. I guess talent is in the eye of the beholder.

You're about to be featured on the Food Network for a single dish. What would it be?
I enjoy cooking and especially like to grill. My featured dish would have to be a Cajun grilled Ahi with roasted peppers and grilled asparagus.

Monte, you really are a cool dude, a great friend and an awesome role model. Thanks for being a significant part of what makes the Apollo family so special.