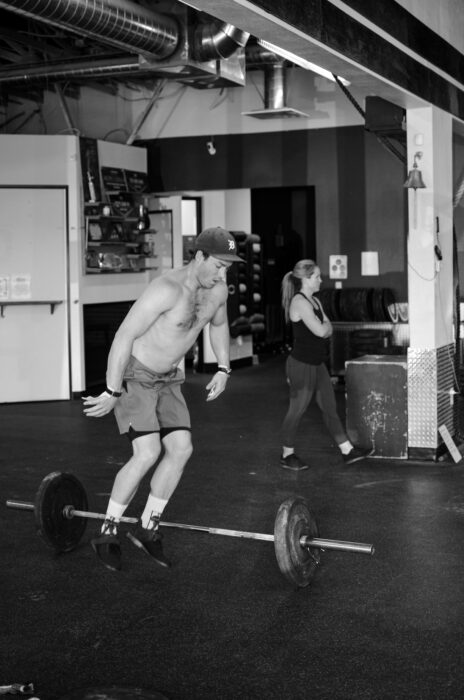 "Time After Time"
3, 5 Minute AMRAPs:
5 Strict Pull-ups (1) / Pull-ups (2) / Chest to Bar (3)
10 Push-ups
15 Air Squats
5-minute Rest

Recipe of the Week:
Looking for something different this week? Why not try this Herb Rack of Lamb recipe. (Instructions below)
Ingredients for 5 Rack of Lamb servings
~2lb rack of lamb
Pinch of sea salt & pepper

Rub
5 garlic cloves, minced
3 rosemary sprigs, just the needles finely chopped
¼ cup finely chopped thyme
Pinch of sea salt
Pinch of cracked pepper
1 ½ tablespoons olive oil

Rice
1 tablespoon olive oil
3 garlic cloves, minced
1 ½ cups uncooked basmati rice, rinsed
1 tablespoon turmeric
2 teaspoons cumin
Pinch of sea salt & pepper
2 1/4 cups no salt added chicken broth OR water

Suggested Garnish/Meal Add-ons
Roasted veggies
Freshly sliced tomatoes
Garlic & dill yogurt

Instructions:
1.) Set oven to 450F/232C.
Add the ingredients for the rub to a mortar & pestle and mash together until it's a fine paste. Alternatively, add the ingredients to a food processor or blender
OPTIONAL: Trim large pieces of visible fat from the back of the rack of lamb.

2.) Add a pinch of sea salt & pepper to both sides of the rack. Then thoroughly spread the rub over the rack of lamb. For best results, let the lamb marinate at room temperature for 30 minutes, OR wrap in plastic wrap in marinate overnight in the fridge. If you marinate it overnight, just let it rest at room temperature for about 30 minutes before adding to the oven.

3.) Place the lamb in a baking dish or on a griddle. Place in the oven with the fatty side up. Cook for 10 minutes, then flip it over with tongs to cook for an additional 8 – 10 minutes, depending on your desired level of doneness. Once finished, DO NOT cut the rack of lamb immediately. Let it rest for 5 – 10 minutes before slicing to prevent all the juice from escaping.

4.) As the rack cooks, set a heavy pot on medium high heat. Once hot, add olive, garlic, and rice. Sprinkle in the seasonings and stir, ensuring EVERY grain of rice is covered in seasonings and oil. Toast the grains for 2 – 3 minutes. Reduce the heat to medium and pour in the broth or water. Bring to a gentle simmer, then partially cover and cook for 12 – 15 minutes until all the liquid has been absorbed by the rice and it is plump.

Build your platter! Add the rice, then top with sliced racks of lamb for a family style meal. I added roasted veggies (zucchini), fresh tomato with lemon, sea salt & pepper, and a garlic dill yogurt sauce.