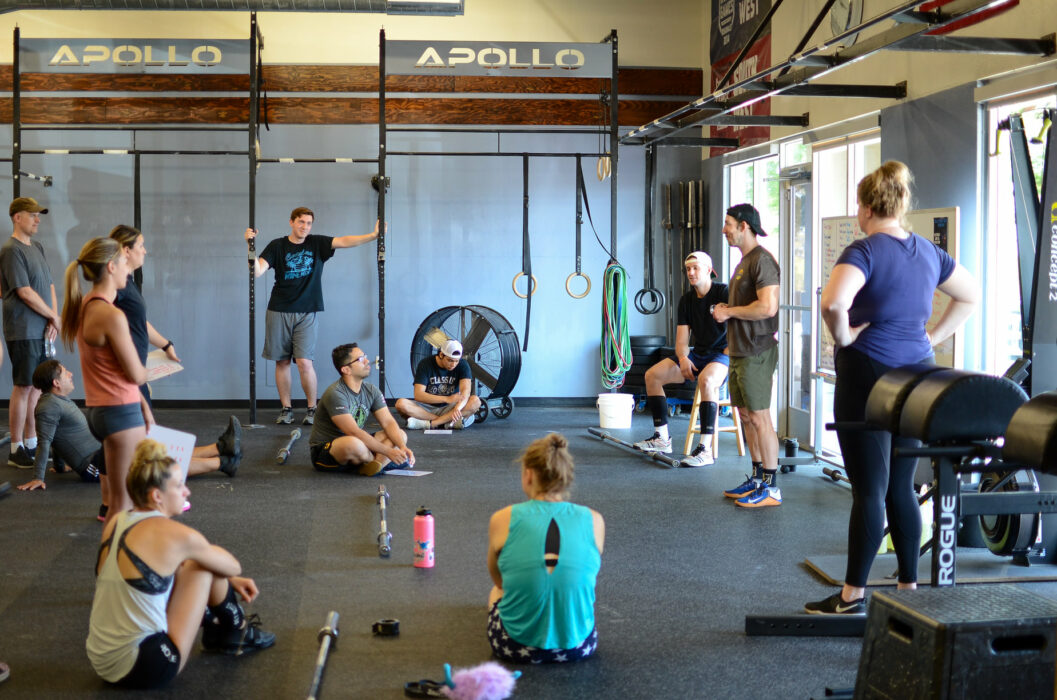 "Holleyman"
30 Rounds:
1 Power Clean (225/155)
3 HSPU
5 Wall Balls (20/14)

Tomorrow's Forecast:
Toes to Bar – Run

Quote of the Week:
"What you do speaks so loudly that I cannot hear what you say."
Ralph Waldo Emerson

Box Brief:
Congrats to Kira for being the July Member of the Month at Apollo! Scroll down to learn more about Kira.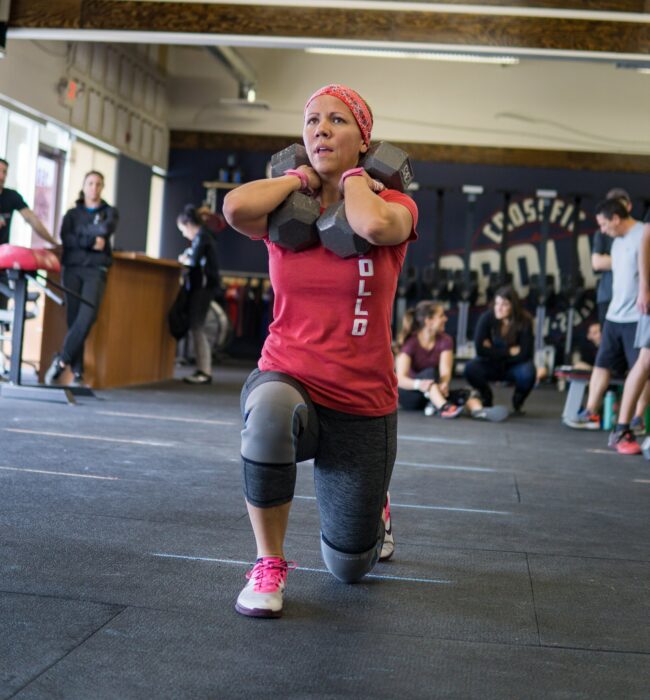 Happy Independence Day Kira!!!
Thank you for agreeing to be our Member of the Month. We're pumped for everyone to get to know you better. Let's jump right it.

You were raised in Vegas. What was it like growing up here?
Growing up in Vegas was the best! I know that Vegas can get a bad rap but it's Home and always will be to me. I graduated in 1998 from Green Valley High School. And I have so many fun memories from those days. The good old days of the 90's like I tell my kids. No cell phones, it was so great!
Favorite things about growing up here: Old school Wet N Wild, Enzo's pizza, MGM Grand Adventure Park, TCBY, Excalibur midway games, hanging at the galleria mall and just being able to swim all year long!

Name 2 things most people don't know about you.
I've cut my shins open to the bone on box jumps in 2 countries. The first time was my first month at Apollo after foundations. I remember laying on the ground next to my box and Chad coming over to check things out, probably thinking I had just scuffed it up a but when he stuttered and said that looks pretty bad, I knew I had broken some kind of record. The second time we were in Mexico. Taylor had just taken me off restrictions for box jumps and the workout happened to be weighted lunges and box jumps. It was the second round and somehow the box either grew a few inches taller or jumped back a foot from where it was supposed to be. Regardless of how it happened my unblemished shin was now cut to the bone. Normally I'm super impressed with my husbands negotiation skills when he's trying to save the family money. However watching him haggle with the guy who was supposed to stitch me up in the Mexican emergency room didn't seem like something my Prince Charming would do.

I love to read, but I can't listen to audiobooks or read off of an iPad or kindle. It has to be a real book in my hands. I'm currently finishing Lone Survivor. I never really knew much about "Murph" and I might have even had a subconscious resentment towards him because somebody decided to honor his memory with a hero workout that wrecks my life every Memorial Day. After reading this book not only do I think he's one of the coolest soldiers to ever live, but I also hope to shave a couple seconds off my next Memorial Day workout.

What is your most embarrassing moment thus far in your life? Go ahead. You can tell us.
We had been married less than six months, basically still kids. It was over 20 years ago but I still remember it like it was yesterday. I don't remember which friends reception we were at but I do remember standing next to the punch bowl talking to Bill and Sandy (names have been changed to protect the innocent). The music was loud and we were all going through the motions of small talk. You know, "why is Vegas so hot?" or "that Mambo #5 sure has a kickin beat!" Small talk, stuff that doesn't really move the needle too far one way or the other. Taylor's version of small talk goes something like this: (while patting Sandy's belly) "when are you due?". Bill's response "she's not pregnant". You would think that someone's most embarrassing moment would involve that persons own actions. I'm here to tell you that's not the case.

Tell us about you and Taylor and your kids and what your favorite family tradition is.
Taylor and I were married March 3, 2000. He's the absolute best and I'm the luckiest girl! We have 4 amazing kids (well teens now).
Bennet is 19 and serving a mission for The Church of Jesus Christ of Latter Day Saints. Currently living in Kansas City Missouri until Samoa opens their borders for travel.
Nya is 17 and is excitedly looking forward to a "normal" Senior year at Arbor View High School.
Talan is 15 and can't wait to get his license in a few months.
Cohen is 13 and would spend all day on the golf
course if he could.
We have a lot of family traditions that I love but top of my list is probably that all my kiddos sleep
in the same room every Christmas Eve and then wake up together to the sound of Santa's jingle bells.

If you could have a conversation with anyone living or dead, who would it be and why?
I think having a conversation with Walt and Roy Disney would be amazing! Just hearing about how they successfully made their dreams into reality.