Deadlift
5×5

"Giddy Up"
For Time:
100 Meter Run
10 Deadlifts (315/205)
10 Burpee Box Jump Overs (30/24)
200 Meter Run
20 Deadlifts (225/155)
20 Bar Facing Burpees
400 Meter Run
40 Deadlifts (135/95)
40 Burpees

Tomorrow's Forecast:
Strict Press – Pull-ups – Push Press

Box Brief:
Congrats to Brie for being the June Member of the Month at Apollo! Scroll down to learn more about Brie.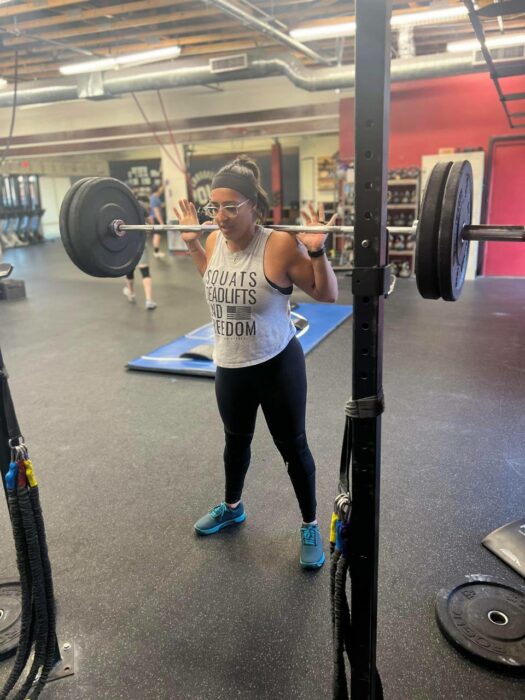 Congrats on being our June Member of the Month!!! This is one of the most prestigious titles anyone has been given. What is another title of yours that means a lot, and why?
Probably Mom. My whole life is dedicated to my three boys and if I am not at Apollo, I am home with them. Everyone will eventually meet them; they will be attending the kid's classes.
Everyone loves a good romance. How did you meet your husband and what did you do on your first date? Was it love at first sight?
Romance?! I am more of a comedy girl! But we met through a mutual friend after he saw a picture of me on social media, he took me to an Italian restaurant (where I made our mutual friend go with me because I am not into blind dates, or dates at all for that matter.) But yes, I guess it was love at first sight…for him!
You are rarely seen doing the warm-up run at the beginning of class. In fact, you seem to avoid it like your life depends on it. What are other things you avoid and what things can you NOT live without?
Ha Ha Ha funny! I actually have done warm up runs now that the weather has warmed up, ask Wes, he was just as shocked! I also avoid burpees…and unfortunately you seem to program them with some of my favorite movements so I have no choice but to throw my whole body on the floor and hope I am able to get back up. So, thanks for that!
I cannot live without coffee, three kids, three dogs, and a husband, I am pretty exhausted by the end of each day!
If you could create a workout for everyone at Apollo to do, what would it be?
Come on Chad, you act like you don't know me. I would program ALL the butt stuff! Maybe throw in some pull ups, but mostly lower body movements. Squats, deadlifts, split squats, lunges (ouch!)
Would you rather go back to age 5 with everything you know now or know now everything your future self would learn? Why?
That's a tough one, but I would have to select the second option. I feel like we grow and learn from our mistakes and they made me who I am today. With that being said, if I have the knowledge that my future self would learn I could pave a successful road ahead for me and my family. (You didn't think I had this sappy side of me did ya?)
If you could go on "America's Got Talent", what would you showcase?
Hmm, I can play the clarinet and the recorder. But I have mastered the RBF in any environment so I might have to showcase that!
What are your top three most used emojis?
The middle finger, an angry face with curse words, and a face palm. Sounds nothing like me, right?