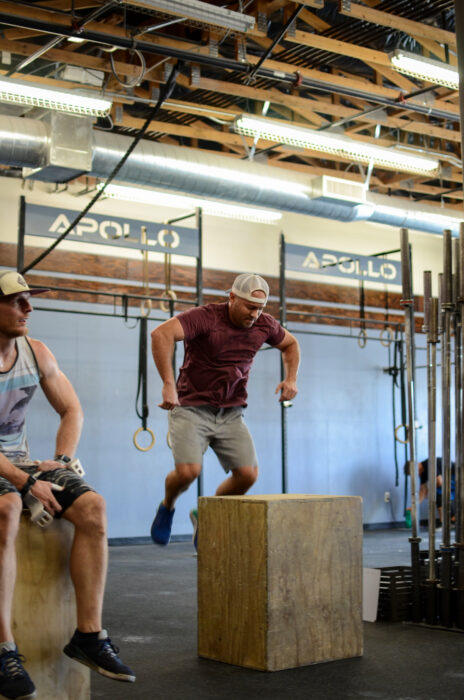 "Front Loaded"
18 – 15 – 12 – 9 – 6 – 3
Hang Squat Cleans (95/65)
Pull-ups
Lateral Bar Over Burpees

Recipe of the Week:
This looks like a great dinner to make to-go! Give this Spicy Wasabi Salmon Salad Wrap a try!

Ingredients:
15oz raw center-cut salmon filet(s)
pinch of sea salt & pepper
1 tablespoon avocado oil
Dressing
1/3 cup reduced fat olive oil mayonnaise
2 tablespoons wasabi (or less to taste)
2 tablespoons horseradish
1 1/2 tablespoons agave
1/4 cup rice vinegar (or more to thin it out and reduce heat)
Salad
6-8 (inner) Romaine lettuce leaves
1/2 small radicchio
1/2 (colorful) bell pepper
1/2 medium cucumber, chopped
1/2 cup diced tomato (OPTIONAL)
1/2 cup fresh cilantro (OPTIONAL)
3 (burrito-size) low carb tortillas

Instructions:
1) Season salmon with sea salt & pepper. Set a skillet on medium high heat, and once hot add the avocado oil and the salmon. Cook on one side for 4 – 6 minutes to lock in the sear and so that the salmon is "released" from the pan and not sticking to it. Flip it over to continue cooking on the other side for 3 – 5 minutes, then set aside outside of the pan. Flake the fish with a fork to prepare it for the wrap or salad.

2) Mix together the ingredients for the dressing in a bowl and season to taste as needed (with the ingredients) according to your liking.

3) Place the ingredients for the salad on a large cutting board or chopping block, then chop everything together. Drizzle on the wasabi dressing then mix well.

4) To a large burrito, add a serving of the salad and the salmon. Fold in the sides, then roll it up! For a lower carbohydrate option, eliminate the tortilla and enjoy it as a salad!