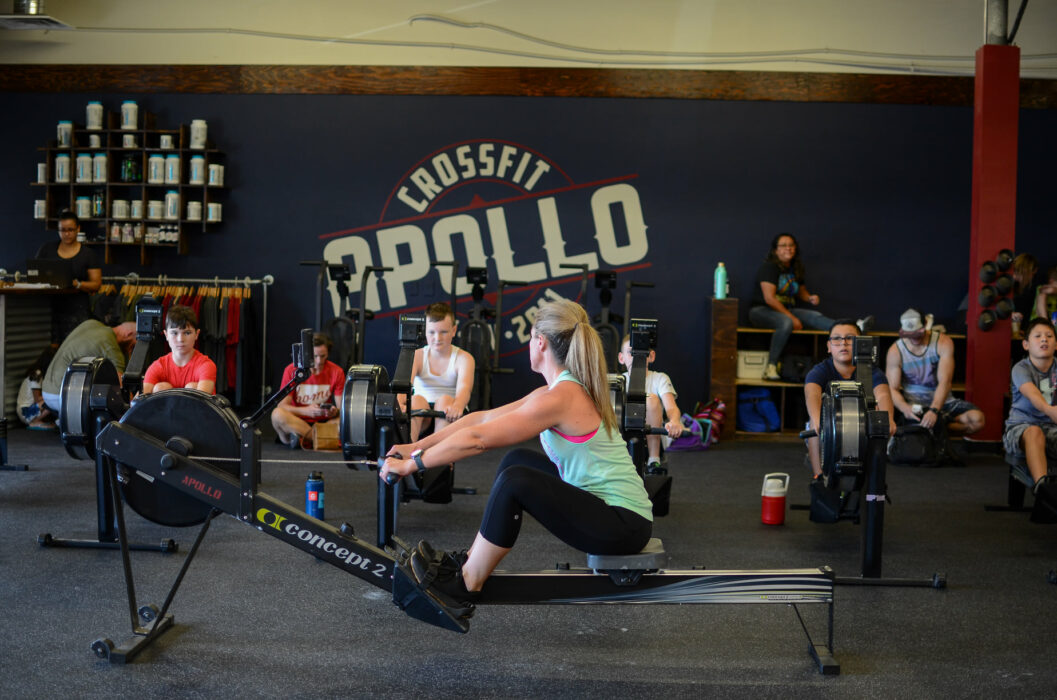 Deadlift – Week 1
Track A
4 @ 50% of 1RM
3 @ 60%
2 @ 70%
1 @ 75%
1 @ 80%
1 @ 85%
Max Reps (6-10) @ 80%

Pull-up + Push-up – Week 1
Track A
4 Sets
20-30 Unbroken Band Assisted

Tomorrow's Forecast:
Row – Push Press – Sit-up

Box Brief:
Congrats to Mike for being the August Member of the Month at Apollo! Scroll down to learn more about Mike.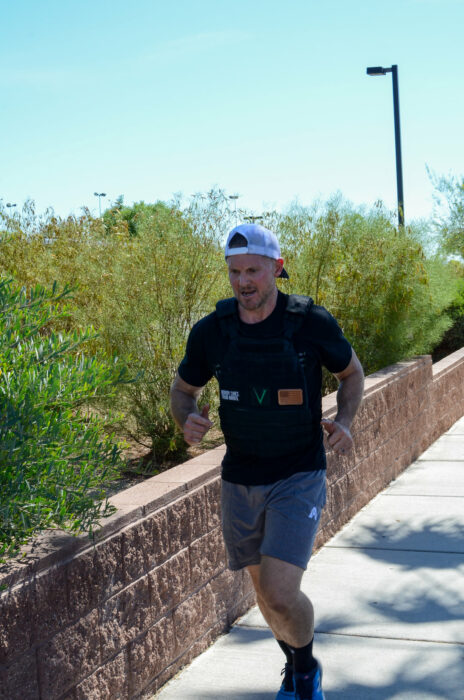 Congrats on being our August Member of the Month! You are truly a kind and
wonderful person and I am so excited to introduce you to everyone at Apollo. How
does it feel to be in this exclusive club?
I am extremely honored and grateful. I love the Apollo community and feel blessed to be
a part of it. I don't feel exclusive, because I feel Apollo is inclusive but I am thankful
that we have an opportunity to share our stories so we can become closer and transparent
with each other. CrossFit itself is a humbling experience, and I am more humbled with
this experience. I believe that if I can survive this interview, then I can survive anything.
I will do my best to honor the tradition, but all hail Matt Brimhall. He is the member of
my heart.

What brought you into Apollo and keeps you coming back?
True story, it was Friday, June 19th I had left 29 Palms at 9 in the morning with my truck
packed with all it could fit, along with 2 dogs, and moved to Las Vegas. I had already
sent all my other belongings ahead with a moving company, so these were basic
necessities to survive through Monday when my stuff was to be delivered. I am
following my GPS, and I was told to exit Buffalo Dr. off of the 95, and at the exit, I see
CrossFit Apollo right across for the light. I decided to check it out and I pulled up in the
front, kept the car running to keep the A/C on for the dogs and walked inside. It was
heaven, it really was. And even Parker didn't scare me away ;). I went over and met the
CF Games participant, (and robbed of an event win by Dan Bailey) Chad Cole. He was
great. We talked for a bit and he offered me a chance to train during Open Gym at that
time. I explained I could not because of the dogs in the truck, but I thanked him and was
excited because my house was literally 1.5 miles away. I joined a week later after I was
able to move in and I love every moment of it (even when we have to run).
I come back because I am insane, wait, no. Seriously, I think we all start a workout at
times and begin to question life decisions (or want to throw things at Chad, and why do
you always give us Philthy Fridays? That is not fair to him. But, the community is
awesome, each and every one of them. I have been to many different classes across the
schedule and worked out with many different members, and it is always a blast. I will
say that my heart is at 6:30 am (RIP JP). It is hard to describe, but that class is just so
eclectic and amazing. We bring it every day (Wes, you better be ready). I am going to
miss being a 6:30 regular once school starts. It is a great time and I will miss training,
but more than that, I will miss the personalities – and George.
Additionally, the welcoming environment at Apollo is not the same across all CrossFit
Boxes and I feel very lucky that I am surrounded by good people that communicate and
have a good time together. I have been to many other boxes that don't have the inclusion of all members and drop-ins the way Apollo has. And, all the coaches at Apollo have
spoiled me. They really take their job seriously and communicate the why to the entire
class and give great recommendations and accommodations. I am grateful for all of you
because you add that care and compassion to the WOD.

For those that don't know, you are a teacher at Mojave High School and published
your first book last year. How did your passion for teaching cultivate and what
inspired you to write your first book?
My love for teaching actually spawns with my love of coaching. I began my teaching
career in 29 Palms California, and I taught English and Drivers Education and the varsity
baseball coach. My philosophy on the field and in the classroom is based upon
relationships. I am not your friend, but I am there to help you and support you, but you
have to give me your best, not my best, but your best. I don't care if it is a 5 paragraph
essay, or just a 1 paragraph response. I evaluate each student on their level, and my goal
is to raise them from their level to the next, and the next. That is another reason why I
became engrossed with CrossFit and decided to get my Level 1. Everyone does the same
workout based upon their skill level. I have actually done some research and
implemented the 21/15/9 model in class. Some students will finish all of the work. Some
will finish some, but I can evaluate a student towards mastery of a goal or standard on
their responses, not the completion of the activity. Kids are awesome. They really are.
And when you see that moment that they start thinking for themselves, and challenge and
question you, I love it. I want my students to explore and ask the why questions. I want
them to evaluate and explore their own thoughts. It is not about the words on the page,
but what they mean to you, and not to the author. I rather students read and evaluate
more nonfiction and informational text. That is something we have pushed more and
more, and actually just use excerpts from the text to focus on a skill. Once they have the
skill, they can read for their own amusement and interest, but to force a student to read
The Scarlet Letter (yes, I know) only makes them want to throw library books at my
head.

Ironically, I am doing this interview as a quick break as I am attempting to finish my first
novel this weekend. I took a self-secluded vacation to Joshua Tree where I can just focus
and write, so this was planned for a month. I did not purposely miss DVB. I have always
been captivated by writing and placing my thoughts on paper. I keep numerous journals
and have ideas scribbled across pages randomly in notebooks. My aunt, DC Fontana,
was a writer, and I got that bug from her. She was one of the original writers for TVs
Star Trek, and she always critiqued my stories when I was younger.

My memoir was a chance for me to heal and cleanse from my past and to eliminate
patterns that had led to many decisions up until that night in November 2019. The first
50 or so pages were a dialectical journal I needed to embrace to understand what had
happened in my life and how I caused it. There was not any general finger pointing, but
it was an opportunity for me to see that I was unwilling to grow as a spiritual person. I
was unwilling to be vulnerable. I was infected by ego, and that one day would come to a
crashing halt, and it did. I wanted to share my story to help people know they are not
alone and it takes many twists and turns at times to find your purpose and place, and that
you will be ok. The bad things that happen allow you to feel, the hurt allows you to
grow, the pain allows you to be human and connected. It allowed me to become more
grateful for the little things and the moments of friendship. I also have many essays I
have posted to my website and I have some pieces that will be featured in a digital
magazine.

If you could be any super hero, who would it be? What would you do with this new
power?
Hands down, it would be Wolverine's rapid healing and high pain threshold. The claws
would be a bonus. I would continue to do Fran until I broke the world record.

If you could create a workout for everyone at Apollo to do, what would it be?
Well, I have mentioned to Chad that he should create a 2-week workout based on the Fast
and Furious franchise, and each workout just gets more and more ridiculous as the days
pass by – just like the movies (they went to space in the most recent one). But that in
itself sounds asinine, so let's not waste time.

I have another workout in mind, but one that could be done and scaled by all is:
Triple threat – 3 rounds each for time – complete 3 times with a 3 min rest in between.
6 power cleans (155/105)
9 burpees over bar
12 pull-ups

Tell us a cheesy "dad" joke. And NO looking on the internet. This must come from
you alone.
As a inhabitant of the high desert since 2004 and a lover of hiking, I am sad when people
just walk by rocks and take them for granite.

If you could go on "America's Got Talent", what would you showcase?
So, crazy thing, but I am really good, or was really good at impressions – voices
specifically. If I practiced, I would have to incorporate how I could use Johnny Carson,
Jack Nicholson, Al Pacino, Arnold, Christopher Walken, and others together. It has been
a while, and I would have to really sit and focus to hear them again as I watch clips of
them, but it was something that I did. Very much coincides with my weird brain that
remembers way too much random s_ _ _. But that was my childhood, so for better or
worse, it was something that I did and did well. I admit that those impressions are old,
because that was from my generation. I would have to really sit and learn new people to
impersonate, but I could do it.
If it was not that, I would sing. I sang for many years in choir and in the theater. So that
is the easy go to – sidebar, we need to have an Apollo Karaoke night.